Our goal is to establish the work of LIPS as a ground-breaking part of the musical experience both globally and in the UK by the end of the three cycles.
We aim to offer hard evidence to teachers, performers and clinicians about the vital importance of a more unified approach to piano performance based on research at the interface between the arts and sciences.
Furthermore we will look to increase the influence of LIPS at home and internationally by cooperating with strong international scientific communities and musical establishments, publishing research papers, live-streaming of the conference and provide the means for students to attend, and bursaries to study for a M.Mus, or PhD in Performance Science.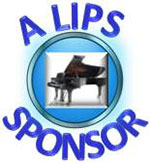 We have a range of exciting sponsorship opportunities for businesses, organisations and private individuals through whose support we can continue to run the symposium through 2014 to 2019, building upon what we have achieved so far.
Benefits include:
Association with an important new musical project of excellence, passion and inspiration.
An opportunity you to meet some of the biggest names in the world of science and music at specialised breakout sessions
With your agreement we will host your logo on all our publicity material
World coverage via the media and digital promotion
View details of packages for sponsors and patrons and contact us to discuss how you can be involved.